StackBuffet: OpenStack Continuous Integration
StackBuffet builds and tests customised packages for you.
StackBuffet
OpenStack Continuous Integration
StackBuffet takes the stress out of running your own OpenStack Continuous Integration System, and allows you to focus more on your core business. If you're using a vendor distro this tool will give you agility far beyond what a distro can provide.
You can build and test customised OpenStack packages, enabling rapid access to updates and allowing you to deliver new features faster than your competitors. Create a new VM in the cloud, deploy OpenStack and run tests with ease. We'll help you solve problems, identify fixes and back-port patches if needed. All of this can be achieved within a simple user dashboard and access to public repositories filled with the latest releases.
To see all the features of this OpenStack Continuous Integration tool without reading through this page, we've made a 1 minute video to show you how easy continuous integration is when using this tool.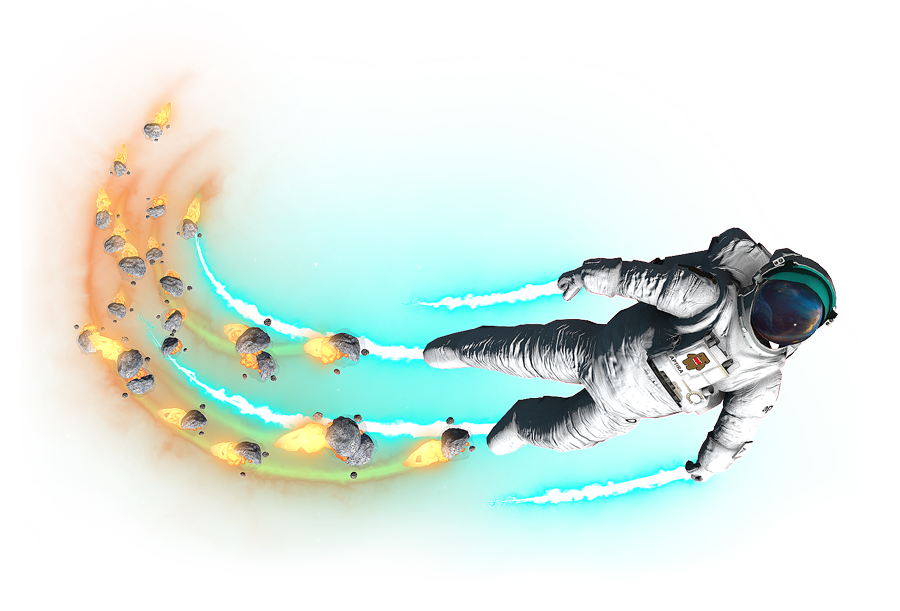 Distro Difficulties
StackBuffet: Not an OpenStack Distro
OpenStack operators are reporting dissatisfaction with both vendor distros and rolling their own packages in private clouds​. StackBuffet is not an OpenStack Distro. It provides the positive aspect of both options and removes the negatives​.
Distros are rigid

​

Local patches management

​

Local CI systems are expensive/hard
Either way your peace of mind is undisturbed, knowing that Aptira's highly adjectived engineers are supporting you. We'll help you solve your problems, identify fixes and even back-port patches if that's needed.
Build RPM/DEB packages from your source code or upstream source code.
Run Tests With Ease: Create a new VM in the cloud, deploy OpenStack on it and run integration tests.
Support multiple OpenStack releases: Liberty, Mitaka and Newton.
Built-in package repository (APT or YUM) so users can install packages from StackBuffet.

Public APT/YUM repository.

Multi-OS support: CentOS and Ubuntu.
Can be installed system wide or in a virtual environment.
 Profiles

Virtualenv
System lib (/usr/lib)
Docker image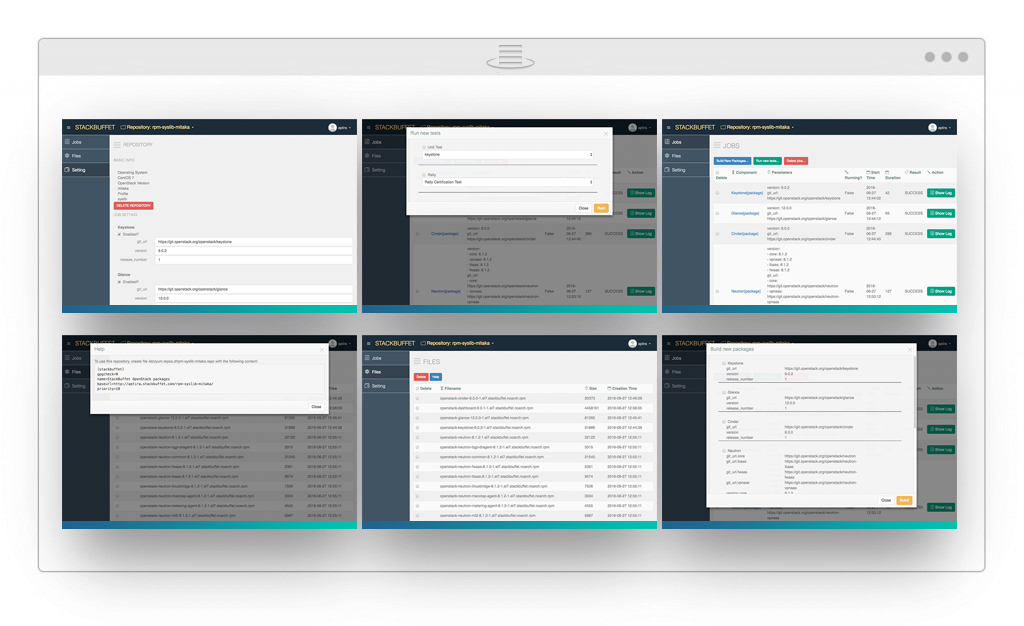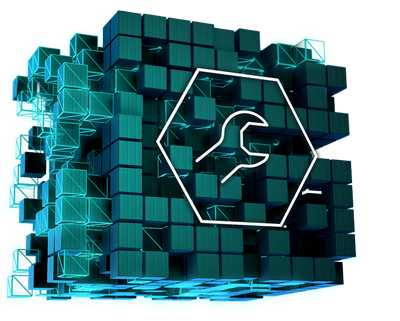 Build Packages
Request a new build or run a test from the Dashboard. StackBuffet builds packages according to user request, and uploads the newly-built packages to repository server. Simply click on the "Build New Packages" button within the dashboard, and select the project you would like to start building. You can check the package build or stop the build job easily if required.
Source Code
Git URL
Gitref (tag, branch, commit ID)
Enable/disable auto-increase
Build Log and History Builds

Quota applied
Default 20 history builds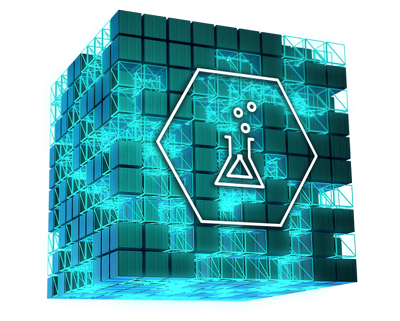 Test Packages
Run tests and troubleshoot your packages with ease. Simply click on "Run New Tests" within the dashboard, and select which test to run.
Automatic Test
Launch a VM
Install OpenStack using your own packages
Run tests

Rally certification test (integration test)
Unit test
Reporting and Troubleshooting
Install log and test reports available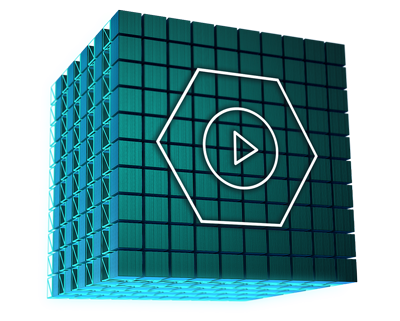 Use Packages
Simply place your own repository URL into a browser. You can browse your packages within the repository, or download them directly.
Built-in Repository (YUM/APT)

http://username.stackbuffet.com/repo_name

Delete packages
Help messages

How to configure this repository
Hosted service
Latest versions from upstream
Create/delete repository

Quota, default 1 repository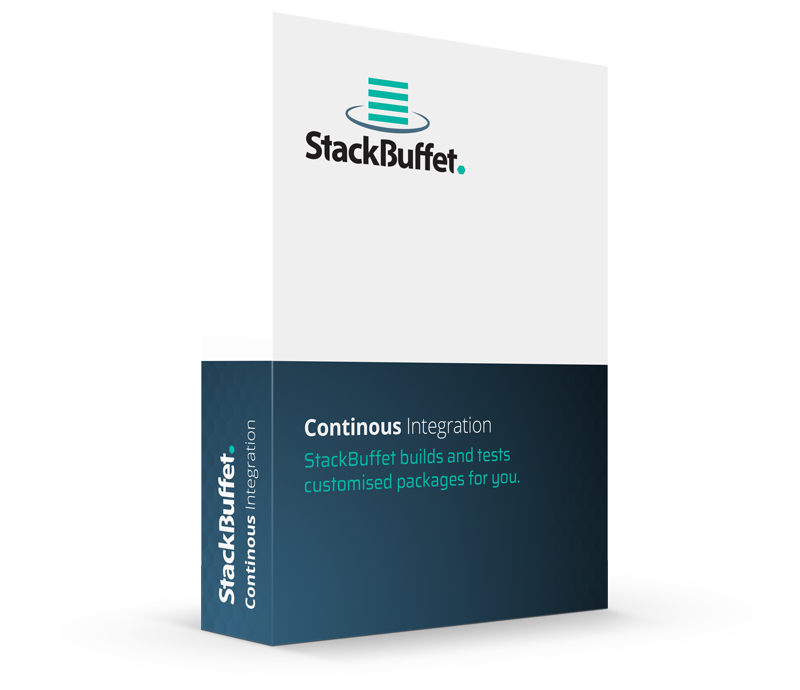 StackBuffet User Guide
StackBuffet can be seen as an anti-distro, a personalised distro or an OpenStack Continuous Integration as-a-service. Here's how it works:
You select a starting point from the official OpenStack repo, eg 2015.1
You apply the patches you want. These could be:

Your own local patches.
Patches from upstream, eg a recent bug fix.
Common patches as recommended via Aptira and other StackBuffet customers.
Patches you got from a swap meet, or operator meetup.

You designate any additional tests you need done.
On demand, StackBuffet builds packages of the format your want and runs them through Tempest and Rally testing.
The end results are personalised OpenStack packages that are ready for deployment via your deployment mechanism. Aptira will even support those packages for you, if that's what you want.
Workflow
This diagram illustrates the workflow for StackBuffet's OpenStack Continuous Integration. First, prepare your source code by cloning from an upstream source and applying local patches into your codebase. Then, simply give this code to StackBuffet via the dashboard. StackBuffet will send the code to one of the backend worker nodes, which can scale according to the workload. It will then build the package, send it to a repository server, and update the metadata in the repository server to make your code ready for use.

OpenStack Continuous Integration Demo
An In-Depth Walk-Through
This video contains a StackBuffet demonstration which was presented by our Senior OpenStack Specialist Dr Shunde Zhang at the OpenStack Day which was held in Sydney in May 2016. Shunde has over 15 years experience in software development, automation and system administration. He has worked with OpenStack since the Diablo cycle and has been involved in projects from OpenStack infrastructure to distributed systems running on top of OpenStack.
This talk will cover two projects we developed at Aptira: StackBuffet and GEMINI.
StackBuffet is an OpenStack Continuous Delivery as a service tool that builds and tests customised packages.Users provide a code base, which can be a fork of upstream source with required patches, to StackBuffet and StackBuffet does all the building and testing work for the users and generates ready-to-use packages. These packages will then be placed in a package repository, being YUM or APT, which can be used directly by the users.
This video also includes a demonstration on GEMINI: A workload migration engine designed to automatically move workflows and virtual machines between virtualisation/cloud platforms. It can be used to migrate Virtual Machines from a traditional virtualisation platform to OpenStack or migrate VMs between two OpenStack clouds. For more information on GEMINI, including a full video demonstration be sure to check out this page.
Topics covered during this presentation will include:
An overview of StackBuffet
Features
Workflow
Building, Testing, and Using packages with StackBuffet
Sytem Settings
Job view, Files view and settings view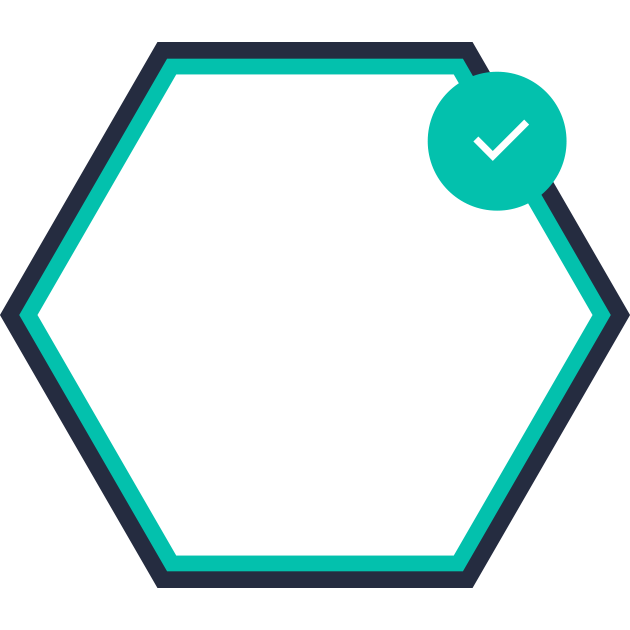 Easy To Use
Set up your own repositories, create build/test jobs and use your own packages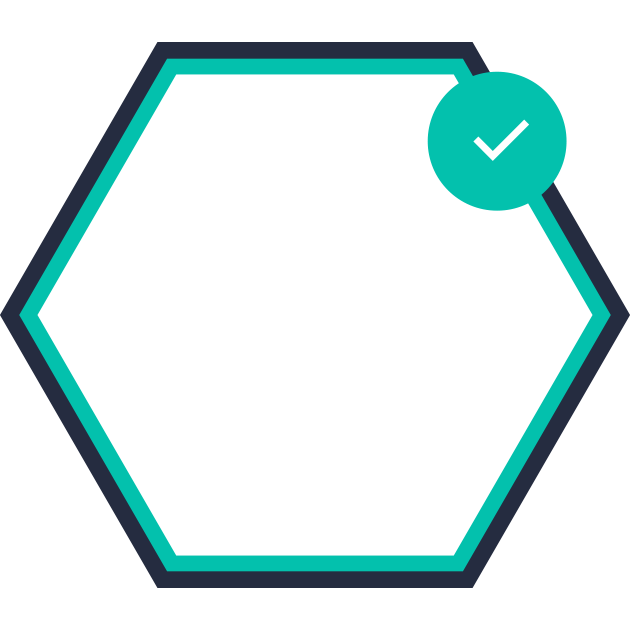 Up To Date
We provide public repositories with packages of latest versions for testing, evaluation and production use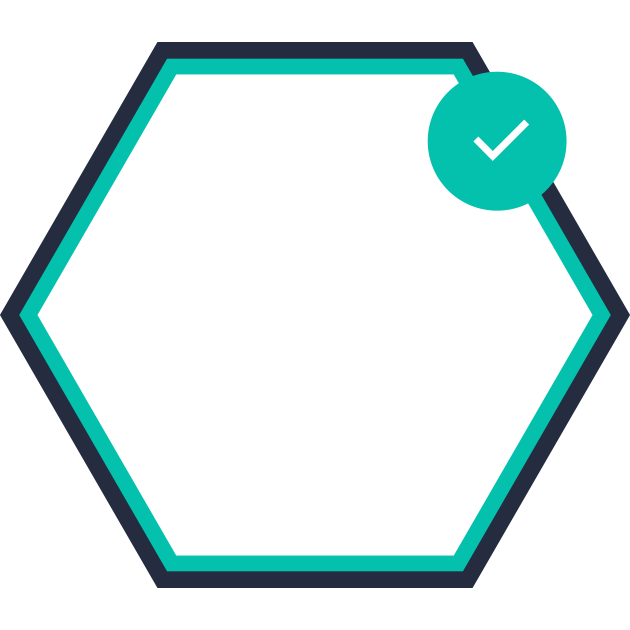 Continous Support
Complete 24/7 follow the sun support from our engineers worldwide
OpenStack Continuous Integration
Build Customised Packages for your Business.